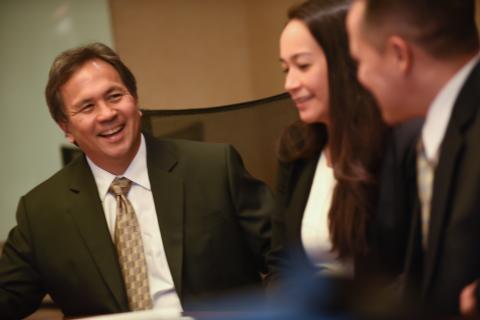 With deep roots in Guam, Saipan and Micronesia and sophisticated international transactional capabilities, Calvo Fisher & Jacob is a destination firm for companies and investors seeking top-level business advice and legal representation in the Pacific region.
The firm is, for example, uniquely positioned to help clients take advantage of the economic opportunities presented by the anticipated U.S. military build-up on Guam that will have such a profound effect on the region's economy.
Calvo Fisher & Jacob represents some of the Pacific region's most successful companies. The firm's business and regulatory lawyers handle some of the largest and most important transactions in Guam and Saipan on behalf of local companies, multi-national corporations and local governments.
Our business lawyers have extensive experience and expertise in a wide range of business matters, including real estate transactions, business organizations, mergers and acquisitions, licensing, employment contracts, bond financings, and securitization and other complex financings.  On behalf of municipal agencies, our business lawyers handle a range of local and federal compliance matters such as government contracting and financing, development and use of government property, and government employment issues. 
The firm's business lawyers also have special expertise and a long and successful track record representing U.S. and Asian companies in construction matters and in the acquisition and development of high-profile hotels, golf courses, resort properties, and health care facilities.   
For international matters, lawyers in San Francisco and Guam provide strategic advice and effective partnering capabilities throughout the United States, and across Asia and Micronesia, including Japan, as part of the firm's client representations.   Firm lawyers have worked closely with foreign counsel, particularly in Japan, Hong Kong and Phillippines, on international litigation and business matters.
 Representative transactions include:
ANZ Banking Group Limited in the acquisition of Citizens Security Bank
NTT DoCoMo in the purchase of Guam Cell Communications, HafaTel and SaipanCell
Payless Markets, Inc. in the acquisition and development of supermarket locations
Calvo Enterprises, Inc. and other Calvo companies in various Guam and Saipan real estate transactions
Premier Ken Guam LP in the purchase of the Hilton Guam Resort & Spa
Premier Hotels & Resorts (Guam), Inc in the acquisition and sale of the Hotel Santa Fe and in the purchase and renovation of the Sheraton Laguna Guam Resort;
Marianas Hospitality Corporation in the 2006 sale of the Hyatt Regency Guam Resort;
Guam Tourist Development in various real estate agreements with Home Depot related to the opening of Home Depot on Guam
Sohbu Toshi Kaihatsu Company, Ltd. and P.H.R. Holding Guam, Inc. in the sale of the Country Club of the Pacific